Holidays Sierra Leone – Activities: Scuba Diving
---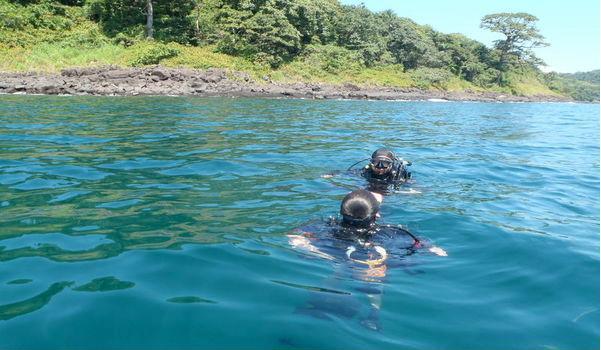 The islands are 5-15 miles off the coast, amongst the rich aquatic life and the clear waters of the ocean. Visibility is far better than the mainland shores and the diversity of species is greater due to the proximity to the open waters. The length/shape of the island means that calm/clear waters can always be found around the island regardless of wind and tides. The new scuba diving center Banana Divers, is equipped with everything needed for a safe and pleasant experience. Several boats, experienced skippers, 2 breathing air compressors, new equipment and a Padi Pro will offer great time to experienced divers or beginners who want just a taste of scuba diving with the PADI DSD program.
West Africa has not earned a reputation as a scuba diving holiday destination. Partly this is due to lack of infrastructure and partly due to notorious visibilities in most stretches of its coast line. However Sierra Leone is an exception because it has both the infrastructure and the favorable conditions for scuba diving. In fact Sierra Leone offers some of the most exciting and explorative diving one get anywhere in thw world.
The prime location for scuba diving in Sierra Leone is the area around Banana Islands. The 10km long and slender island comprised buy hard volcanic boulders at its cost line, cuts through the West African current creating clear water pockets with unparalleled   visibility for the region's standards. The island's shape also guaranties calm seas at least in one of the two sides no matter the weather.
The density of the fish stock in West Africa also contributes to frequent encounters of big game fish and smaller species. The shallow reefs around the island attract even more aquatic life providing colorful dives with increased fish activity. All these color against the dramatic background of the dark basalt boulders makes a pleasant and memorable scuba diving experience.
The waters of Sierra Leone are also littered with history. From the slavery trade hundreds of vessels have been wrecked off the cost of West Africa. A fair amount of these historical ship wrecks are located in Sierra Leone. International Ship Wreck expeditions visit Sierra Leone frequently to perform underwater archeology studies and identify these wrecks. Recreational divers also have the opportunity to visit these treasures of colonial history and admire the magnitude of the naval operations of the eighteenth century in West Africa.
The only scuba diving center in Sierra Leone and one of the very in West Africa is located at Daltons Banana Guesthouse at Banana Island. It is equipped with new scuba gear, 2 filling stations, several boats, a Padi Professional.  It offers programs for beginners like the Padi Discover Scuba Diving, and fun dive for certified divers of various levels.
With a sense of adventure and unique opportunities for exploration, scuba diving may well be one of the top recreational activities for a holiday in Sierra Leone.
---