Holidays Sierra Leone – Activities: Snorkeling
---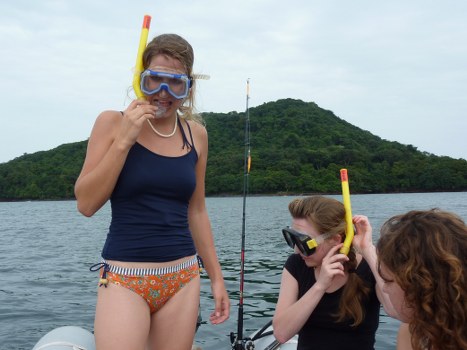 The underwater world of Sierra Leone is rich in aquatic life. A snorkeling trip takes guests on top of the shallow reefs timing with life and colour. Flocks of fish attract predators like mackerel, jack, pompano and make for an exciting observation of the sea bed. The landscapes consist of dark basalt rock reefs contrasting with the white sand bed.
Banana Island is the perfect location for snorkeling trips, with visibilities greater than anywhere else at the coast of West Africa. The shape of the island also promises calm and clear waters at any weather conditions and tides.
Four shallow water shipwrecks can be explored by the experienced snorkelers when the conditions allow.
Banana Divers and Daltons Banana Guesthouse run snorkeling trips the most popular sites around Banana Island.
---